Jock Lindsey has turned his trusty watering hole into Jock Lindsey's Holiday Bar. Complete with over-the-top décor and a limited-time menu filled with festive food and craft cocktails that'll have you feeling like your best "elf!"
Jock Lindsey has caught the holiday spirit in a big way this year and has decided to throw a party for all of his adventurer friends new and old. When you walk in, you'll notice the decorations are next-level and feature an array of gifts, lights, and little holiday nods to his love for aviation. Here ugly sweaters are not only welcome but encouraged along with holiday jokes and puns you'll never "fir-get."
Excited to hear more about the menu? Don't worry— we have all the details. From savory options to sweet, this holiday-inspired menu is filled with delicious Disney dining "yule" love that captures the adventurous spirit of the hangar. All these dishes are perfect for sharing with friends and family so you can give everything a try.
Drummer Boy Braised Lamb with Truffle: Mushroom and Manchego cheese, arancini, herb chimichurri, chili peppers coulis and micro arugula.
Holiday Caprese Wreath: Vine ripe tomatoes, heirloom cherry tomatoes, fresh mozzarella, basil, and balsamic glaze.
C9 Light Deviled Eggs: Colored eggs with shrimp and tobiko caviar.
Ugly "Sweeter" Bread: Cinnamon smear brioche and egg nog icing adorned with holiday light decorations.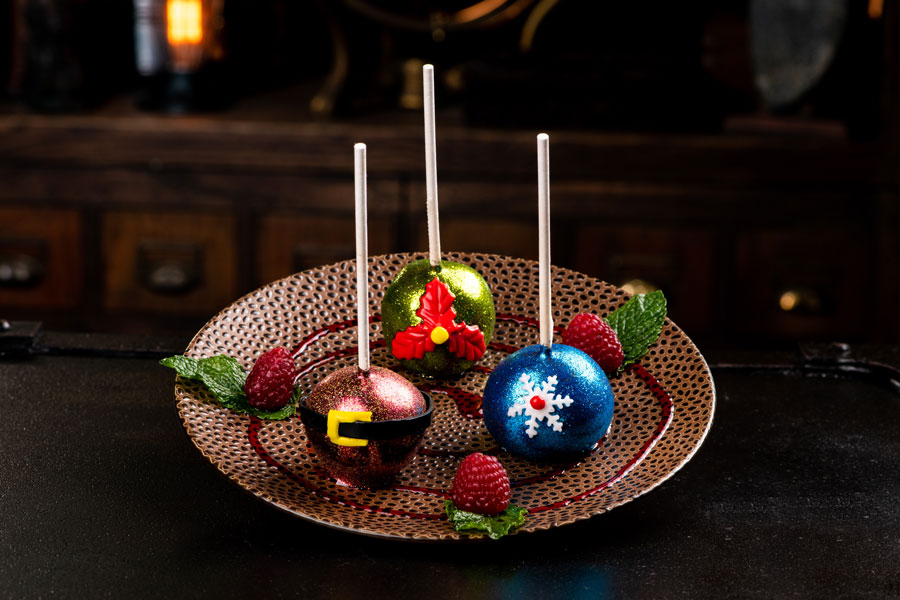 Jingle Bell Pops: Three dark chocolate truffles, crushed peppermint, and peppermint syrup dipped in dark chocolate.
Of course, holiday eats are even better with holiday spirits and there's something on the menu for everyone to indulge in!
Cinnamon Bells: Knob Creek, Fireball, Frangelico, Cinnamon simple syrup, creamer garnished with a gold sugar rim.
Santa Hat Mojito: Bacardi, grenadine, mint leaves, simple syrup, lemon-lime foam garnished with a candy cane.
White Christmas Margarita: Rumchata, Malibu, Sauza Tequila, lime, and white cranberry juices garnished with whole cranberries and a green sugar rim.
Jock's Holiday Nog: Tito's Handmade Vodka, Frangelico, Rumchata, vanilla creamer, garnished with a red sugar rim.
Jock's Holiday Bar will be serving up festive spirits and holiday magic through January 5, 2020 so add it your Walt Disney World Resort must-do list. Another addition to your must-do list should be Disney's Animal Kingdom to explore all of their new Holiday decor!
Don't forget to keep checking back here at Heyday Travel News for more updates on all of the happenings at Walt Disney World and beyond!